Our Story
Hi, my name is Julie and would like to
welcome you to "Happy Applique".
This site was started as a side project
to share the designs I created for my
children. After making a small collection
of exciting applique designs I felt
compelled to share them for others to enjoy. I do hope everyone will be as excited as my kids are about wearing
the applique's.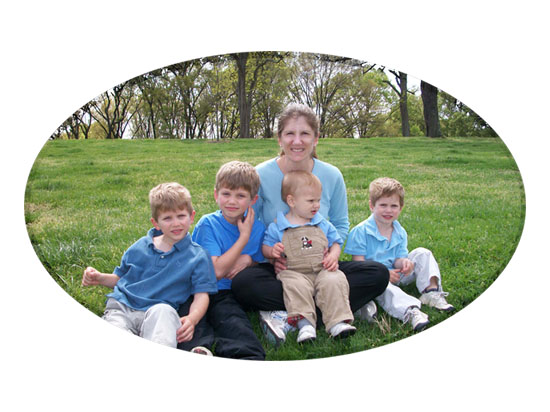 I have a wonderful husband of 12 years and have been blessed with four awesome boys. I am so grateful the Lord has given me the opportunity to stay at home and raise our sons. Just like when I was a little girl, we do crafts almost every day. In addition to creating applique's, I enjoy hobbies ranging from painting wooden children's furniture to designing custom window valances.

My favorite projects were creating personalized quilts with an applique theme. Friends loved the applique's so much they requested me to put my designs on everything from shirts, baby bibs and kitchen towels for their family. From this experience I understand the need for a well designed applique. With that in mind, I put a lot of time setting up the plotting sequence for each design.

I am blessed to be able to start Happy Applique and share designs with others. I hope you will enjoy the designs and that they bring happiness to those who wear your creations. Thank you for visiting Happy Applique and have a great day.